Growth Of Social Networks Worldwide [Study]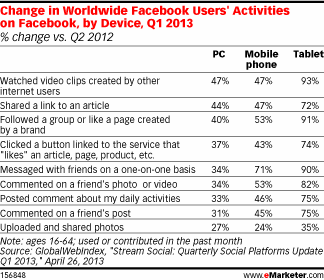 eMarketer has just released the latest figures on social networks (Q1/2013): Facebook ist still #1, but is being challenged by its contenders.
The figures have been taken from GlobalWebIndex's "Stream Social: Quarterly Social Platforms Update." and show clearly, that a lot has happened behind Facebook: quite a few second-place contenders are fighting for the spot behind the leader, with Google+ out front at 26% of internet users. Google+ registered a growth in their active users base (using the service at least once in the past month) 33% between Q2 2012 and Q1 2013. While Facebook has seen its total number of active users increase by 35% between Q2 2012 and Q1 2013, Twitter is currently the fastest-growing social platform in the world, with a 44% growth in the same period.
In the US, Google+ has a growing user base, but gets only limited attention, whereas Google+ has been much more successful on a worldwide basis. With YouTube  right behind, used by 25% of all active internet users, there's no question that Google, who is the owner of YouTube, is competing strongly against Facebook who has been expected to win the competition in the global social network space.
"Growth in social network usage came especially from the mobile phone and tablet, which were increasingly used for a variety of social activities. Watching videos on Facebook saw among the biggest jumps in usage, with viewing increasing by 47% on both PC and mobile, and nearly doubling on the tablet. Messaging friends on a one-on-one basis via Facebook also grew substantially on mobile phones and tablets."
https://hellriegel.net/blog/wp-content/uploads/156848.gif
280
324
admin
https://hellriegel.net/blog/wp-content/uploads/digi-Marketing_x200x101-300x151.jpg
admin
2013-05-13 15:58:56
2018-04-30 10:42:50
Growth Of Social Networks Worldwide [Study]