Smartphone Market Expands – 62% of Mobile Users in the U.S. Aged 25 – 34 Use Smartphone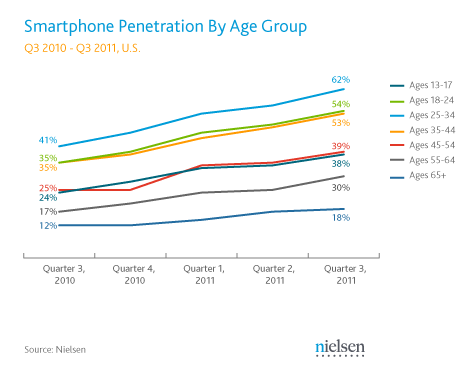 Nielsen recently published a study that revealed that only 43% of all US mobile phones users own a smartphone, while most subscribers under the age of 44 use smartphones.
Smartphones are most popular in the group of 25-34 aged, with 62 percent of them reported to own smartphones. And among those 18-24 and 35-44 years old the smartphone penetration rate is hovering near 54 percent.
Other groups show slightly lower penetration rates. Around 40 percent of 12-17 year-old teens and 40 percent of 45-54 year-olds reported owning a smartphone, as opposed to a more basic feature phone.
The fastest growing segments for smartphones are the younger adults, whereas the segment with the second fastest-growing smartphone penetration rate is those aged 55-64. Smartphone penetration among this older group is only 30 percent, but it jumped 5 percent according to Nielsen's quarterly survey.
Android still remains the most popular smartphone operating system in the United States, with 43 percent of the market, while Apple is the top smartphone manufacturer, with 28 percent of smartphone consumers sporting an Apple iPhone.
To get more information on the quarterly Nielsen survey, contact Nielsen in the U.S.
https://hellriegel.net/blog/wp-content/uploads/Smartphone_agegroups.gif
369
465
admin
https://hellriegel.net/blog/wp-content/uploads/digi-Marketing_x200x101-300x151.jpg
admin
2011-11-07 14:46:03
2018-04-30 10:42:51
Smartphone Market Expands – 62% of Mobile Users in the U.S. Aged 25 – 34 Use Smartphone