Changes in the Media Landscape… #glocal09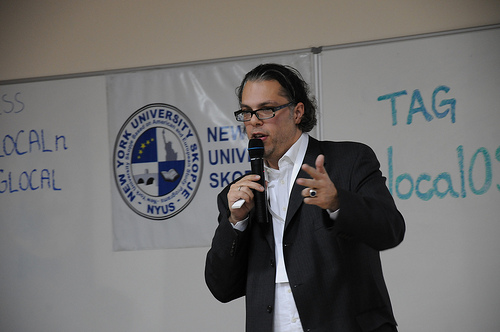 As some of you already know, I have recently been to a conference in Skopje, Macedonia. The conference "Glocal: Inside Social Media" was hosted by the New York University Skopje and had a great line-up of practitioners as well as academics. Here is a short summary from the offcial blog on my presentation:
"Social media is people having conversations and interactions," underlined Oliver in his presentation, clarifying that it's not about a group of individuals broadcasting as a company, which would not mean 'social' anymore. "It's about people having conversations, people having to listen, and not only to speak. Communication has changed."

The key feature of social media is the possibility to broadcast media. Fifty years ago, as Oliver stated, you could meet with people, talk with them, write to them, have a conversation, travel to visit them – and that was all. At that time, only TV and radio stations, and publishing houses, could broadcast. Today every individual can broadcast.

Social media have changed news in qualitative as well as quantitative manner. Now, news don't have to be good. News have to be quick, cool, fast. "I don't care about the three page article in the journal; I just want to have my Twitter messages" – that's how most people think today.

Figures are showing that 3/4 of digital messages are sent by mobile today, stated Oliver. The future can be describes as, "I use my phone more often than my wallet."
More information on all panels and presentations can be found at http://glocalconference.com/.
Related articles by Zemanta
https://hellriegel.net/blog/wp-content/uploads/4013274809_b27d5a69fe_d1.jpg
332
500
admin
https://hellriegel.net/blog/wp-content/uploads/digi-Marketing_x200x101-300x151.jpg
admin
2009-10-26 01:06:32
2009-10-26 01:06:35
Changes in the Media Landscape… #glocal09