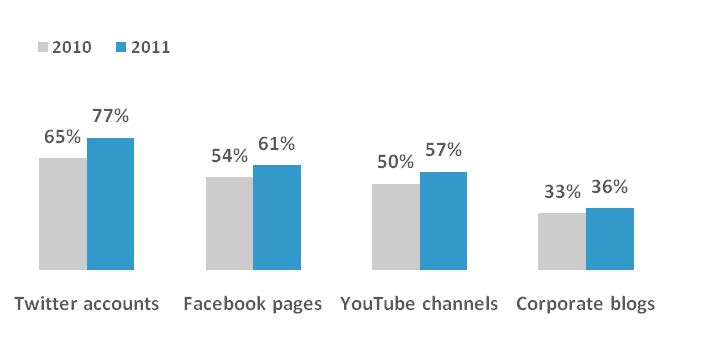 Brands are moving from simply being present on social networks to taking a more active role on the sites
Companies and marketers are more comfortable on social networks and have started to engage more authentically and build communities with other users on the sites.
Burson-Marsteller, one of the leading PR companies, looked at the FortuneGlobal 100's activities on Facebook, Twitter, YouTube, corporate blogs and other local microblogs and social networks around the globe for its "Global Social Media Check-Up 2011". 25% of these companies worldwide are using all four major social media platforms: Facebook, Twitter, YouTube and blogs – an increase of 25% from 2010 – and 84% are on at least one platform.
Most companies are on Twitter, which saw a major growth compared to 2010, as 77% of companies around the world have Twitter accounts, up from 65% last year. Twitter might be emerging as the predominant social media platform used by corporations, although corporate Facebook pages have more "likes" than Twitter accounts have "followers." Read more
https://hellriegel.net/blog/wp-content/uploads/burson-marsteller2011globalsocialmediacheck-accounts.jpg
341
719
admin
https://hellriegel.net/blog/wp-content/uploads/digi-Marketing_x200x101-300x151.jpg
admin
2011-03-11 14:25:26
2013-08-20 23:14:05
Study Reveals: More Marketers Move Toward Engagement on Social Media